Open Hive Arduino Yún gateway¶
Introduction¶
This firmware runs on the Open Hive RFM69 Arduino Yún, a receiver node using radio link communication. Telemetry data is received from the Open Hive RFM69 sensor node, decoded from CSV and stored to a SD card. The most recent version is available at gateway-rfm69-csv-sdcard.ino.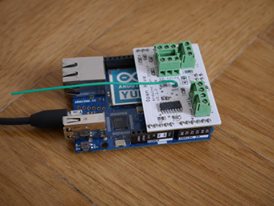 Build¶
Build on your workstation¶
# Get hold of the source code repository including all dependencies


git clone --recursive https://github.com/hiveeyes/arduino



# Select this firmware




cd

 gateway-rfm69-csv-sdcard



# Select appropriate Makefile


ln -s Makefile-Linux.mk Makefile



# Build firmware


make



# Upload to MCU


make upload

Note
You might want to adjust the appropriate Makefile to match your environment.